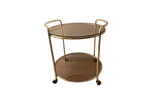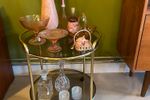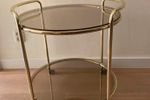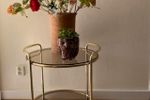 description
Altijd gezellig een serveerwagen. Voor een lekker drankje, boeken, planten of/en dierbare spulletjes! Groot model voor extra veel de...

more
delivery prices
Pickup for free in Bakel (noord-brabant, NL)

Free

Delivery rates per province

+
Messing Bar Cart Vintage Serveerwagen Barwagen!
Buy safely with Reliving
Your purchase up to € 1000 insured during transport
Money back if your purchase does not match the picture
Your payment is 100% safe. We pay out the seller only when you are satisfied
description
Altijd gezellig een serveerwagen. Voor een lekker drankje, boeken, planten of/en dierbare spulletjes! Groot model voor extra veel de...

more
seller
Bij Sjan
Bakel (

noord-brabant, NL

)
(

82 reviews

)
warranty
Includes purchase protection with refund policy.
delivery prices
Pickup for free in Bakel (noord-brabant, NL)

Free

Delivery rates per province

+
environmental impact
By choosing this item instead of buying new, you are contributing to a sustainable future.