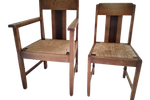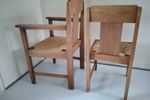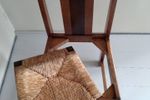 description
Eiken Art Deco Amsterdamse School fauteuils jaren'20. Unieke set van 6 stuks, waarvan 2 met armleuningen. Stijl zuiver. Mooie s...

more
delivery prices
Pickup for free in Zuidlaren (drenthe, NL)

Free

Delivery rates per province

+
Eiken Art Deco Amsterdamse School Fauteuils Jaren'20, Inclusief Tafel.
Buy safely with Reliving
Your purchase up to € 1000 insured during transport
Money back if your purchase does not match the picture
Your payment is 100% safe. We pay out the seller only when you are satisfied
description
Eiken Art Deco Amsterdamse School fauteuils jaren'20. Unieke set van 6 stuks, waarvan 2 met armleuningen. Stijl zuiver. Mooie s...

more
warranty
Includes purchase protection with refund policy.
delivery prices
Pickup for free in Zuidlaren (drenthe, NL)

Free

Delivery rates per province

+
environmental impact
By choosing this item instead of buying new, you are contributing to a sustainable future.